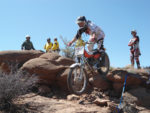 It hardly seems like our season is almost over! While the turnout for Rounds 11/12 at Tucker Ranch was light, those who came had a great time. Results are posted along with updates season points.
The Tucker Family has been a supporter of trials for a very long time and it was great to see Bailey come out of retirement to compete with the 80 OTS. We also had two new riders for the weekend and a ride off between Dan Straka and Chris Adams!
Up next are the last two series events for the season, hosted by New Mexico at the Haystack Mountain OHV Area just outside of Roswell, NM. Haystack is a great riding area and the weather in mid-October is usually pleasant. Mark your calendars for October 21/22, 2017 for what is sure to be a fun event.