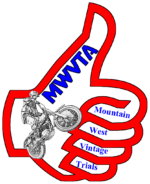 Come Share The Ride!
Results for Rounds 3 & 4 held at Turkey Rock, CO are posted on the Results page.
Coming up are Rounds 5 & 6, hosted by our Wyoming members on May 27 & 28, 2017.
A printable flyer and full details are posted on the Calendar page.
Haven't joined MWVTA or ITSA yet?
All riders MUST be an ITSA Member to ride a MWVTA event.
The International Twin Shock Association offers memberships through their website.
Visit our "Join MWVTA Online" page to complete the MWVTA membership application and make your payment. Payments are completed through Paypal, with several options (credit or debit card, bank account, Paypal, etc.) ~ you do not need a Paypal account.
If you prefer to send in your membership form with a check, you can still do that. The downloadable membership form is on our Membership, Rules & Forms page.
Have some great photos from previous events that you'd like to share?
Send your photos in jpg or png format to our Webmaster, along with the event details.